What is Transfer of Certification?
Transfer of Certification—the recognition of an existing and valid management system certification, granted by one accredited certification body, (hereinafter referred to as the "issuing certification body"), by another accredited certification body, (hereinafter referred to as the "accepting certification body") for the purpose of issuing its own certification.
Benefits of Transfer to TCS
Competitive Pricing with No Hidden Charges!
Cost is one of the important factors for every client and business. TCS continually monitors the industry to make sure our pricing is fair, competitive and completely transparent.
Great and Personalized Customer Service
We understand every client and business is unique by nature. We provide a dedicated point of contact and individual approach so you get the support you need from the start!
Opportunities for Improvement
A fresh assessment approach can revitalize your audits and identify new opportunities to improvement.
Integrated and Multi-Site Certification
Combining multiple certifications or bringing individual certified sited under one certification will help the overall certification more managable and cost effective.
Expert and Competent Auditors
We have a team of experienced auditors with technical knowledge and various sector expertise, so we understand your pressures.
Easy Steps to transfer your certification to TCS
Quick and simple steps to transfer your certification to TCS. Just get started with your 1st step and we will guide you and support your through the whole transfer process.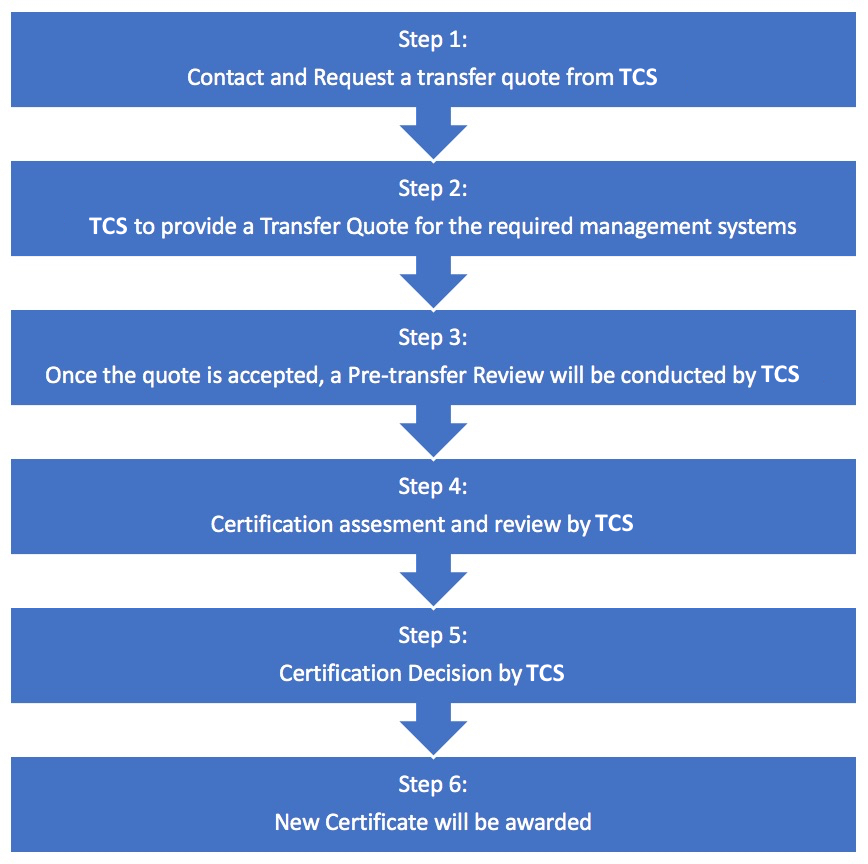 After the new Certification awarded by TCS, your certification audit cycle will be resumed and continued to ensure your system remain valid and compliant.
Request a Transfer Quote